Music Together ® Registration
Showing all 10 results
Join us this spring! Classes begin on March 29th!

 Please click on a class type below to learn more!
Each week, our experienced teachers lead classes in singing, dancing, and playing songs that range from tender lullabies snuggled with loved ones, to boisterous jams using child-friendly percussion instruments. Our award-winning music, illustrated songbook, and other print and online resources will help you continue the music-making fun at home and nurture your child's musical growth—even if you don't think of yourself as a great singer or dancer. Like parenting, making music requires no previous experience or expertise, just a willingness to get down on the floor and get silly with your child!

OUTDOOR CLASSES

meet on the grass to the left of our studio unless the weather is under 35 degrees or it is precipitating. If the weather doesn't cooperate class will be streamed online, or if you prefer, you can join us inside! We will provide freshly sanitized instruments for your use each class, or you can choose to bring your own from home or purchase some from us to bring each week.
INDOOR CLASSES meet in our large dance studio. Class size is limited to ensure that families have plenty of space to maintain physical distance while we are still in the midst of the Covid-19 Pandemic.
All in-person class enrollments include: 
•one in-person class per week during the enrollment period
•unlimited drop-ins for online classes running during the enrollment period
•access to recorded online classes on demand throughout the enrollment period
•access to an exclusive online community with bonus recorded content
•a beautifully illustrated songbook and accompanying CD, plus lifetime access to online content available on Music Together's Family Music Zone and in the Hello, Everybody app.
Online Music Classes for the Whole Family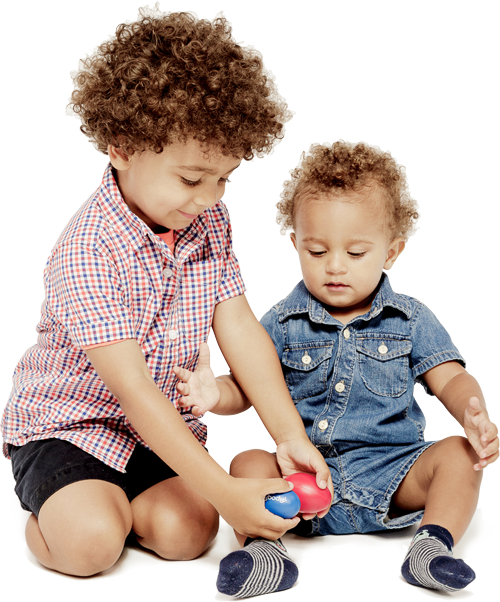 With Music Together® Online, you'll have access to the same high-quality music and movement curriculum loved by millions of families and teachers around the world—from home!
Like all our classes, Music Together Online is designed to teach the way young children learn: through play. During each online music class, one of our experienced teachers will lead music activities for the whole family to sing, play, and jam along to! Whether you have a box of rhythm instruments ready to go, or you create some with household items, we will have a blast rocking out together! Even though your teacher is on the screen, each class has been designed as an active music-making experience for little ones and their grownups.
Classes are appropriate for children under 5, but the entire family is welcome (and encouraged!) to participate in the musical fun. Hear what parents have to say about Music Together Online:
All online class enrollments include: 
•option to attend unlimited online classes that are running during the enrollment period (please choose a primary class time and attend others as a bonus!)
•access to recorded online classes on demand throughout the enrollment period
•access to an exclusive online community with bonus recorded content
•a beautifully illustrated songbook and accompanying CD, plus lifetime access to online content available on Music Together's Family Music Zone and in the Hello, Everybody app.
A NOTE ABOUT SCREEN TIME:
Research has found that screen time in early childhood does not have to be detrimental. It can even be beneficial when it is socially interactive, based on developmentally appropriate principles, has good content, is used in the proper context, and is about creating.
The National Association for the Education of Young Children has long had a position statement on interactive screen time. The American Academy of Pediatrics refers parents to Common Sense Media for some guidance on appropriate passive screen time options. PBS Kids has new content daily for preschoolers.  In addition, the American Academy of Pediatrics suggests using screen time to prioritize social connection over passive consumption of content. In this time of social isolation, interacting with friends and loved ones is important. (Tip: Keeping to a predictable routine will help, too, so if your family is used to seeing your Music Together teacher at 9:30 each Tuesday, then continue to do that if it's a possibility. If your family regularly takes an afternoon walk, then head on out for some fresh air!)
For Mixed Ages (birth through 9) and the grownups who love them
Music Together POD Classes

Grab a group of three families or more and choose your time and location for a
POD

 

class

JUST for you! You can choose to meet at our studio indoors, outdoors, or at the location of your choice! These 

classes

 are also catered specifically to the students in them, and can be made engaging for the littlest through the biggest of kids!
The best part?
<—- even your pets are welcome!
MUSIC TOGETHER IN YOUR SCHOOL
Programs for Early Learning Settings Serving Children Birth-Kindergarten (In Person or Virtually)
With Music Together, music becomes a powerful learning tool, whether your students are attending class in person or via distance learning. From private and public preschools, to pre-kindergarten programs, to Head Start, to childcare centers and in-home daycares, our award-winning music and developmentally appropriate activities have been found to raise the overall quality of children's early learning.
Our research-based curricula and enrichment resources:
Help children develop music competence, which opens the door to a lifetime of music participation
Support children's development in key early learning domains
Give teachers tools to enhance classroom life and reach curricular goals
Support family engagement and parent-child relationships
See a class in action, and hear what the school directors, classroom teachers, and parents love about having Music Together at their school.
At Music Together, we value music development for its own sake, because being able to sing in tune and keep a beat is the birthright of every child! We also know that music development benefits the whole child, supporting development in key early learning domains: That's why we say Music Learning Supports All Learning®. Music Together aligns with many early learning standards, curricula, and philosophies, and can be easily integrated into any school setting. CONTACT CHRISTYN FOR MORE INFORMATION about bringing Music Together to a local school! christyn@popovskyperformingarts.com
Music Classes for Big Kids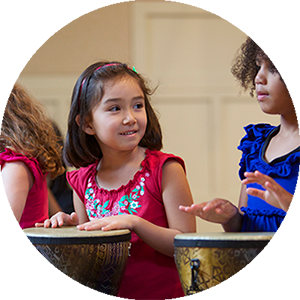 Rhythm Kids® (Ages 4–5 and Grades K–2)
Big kids know what they like. Telling silly stories. Playing games. Being in charge. Designed specifically for pre-K and early elementary students, our active Rhythm Kids classes for big kids tap into how children this age are wired to learn, with music games, animal rhythm stories, and lots of stomping-flying-climbing fun.
Rhythm Kids is just the thing to get your child to (willingly) put down the iPad and start making music with their friends. By the end of the semester, they'll be proud to show off what they've learned: to you, their friends and teachers, and—let's face it—for some kids, every person they meet!
Rhythm Kids Music Classes for Big Kids
In each weekly music class, we drum, sing, move, and play along with rhythms inspired by musical traditions around the world, from West African Gahu, to Japanese Taiko, to Brazilian Samba, just to name a few.
Students learn to compose, choreograph, and conduct as they play—and play with!—a variety of musical instruments: West African djembe drums, percussion instruments, and, the most important instruments of all, their voices and their bodies. As your big kid learns to think and create like a musician, they'll also build musical connections to the global community. Classes include:
immersion in the musical language of many cultures
playful music games with rules
opportunities to lead, balanced with opportunities to collaborate
deep exposure to complex, fun, and rockin' music
many chances to solo, improvise, and work in ensembles
rich, creative experimentation and expression, improvisation, and innovation
Music Learning Supports All Learning®
Whether as a stand-alone music class or as a companion to private lessons, Rhythm Kids helps children develop the facility, repertoire, mastery, and creativity to be confident music students and music-makers throughout their lives. Plus, kids gain valuable skills they'll take with them to the elementary school classroom (and beyond!). The music and movement activities support growth in several key developmental areas and naturally motivate kids to focus and engage.
Rhythm Kids music classes, activities, and games support:
MUSIC-LEARNING

Rhythm and tonal competence
Composing, conducting, & choreographing
Independent singing
Confidence in movement
Creative musical expression

ALL LEARNING

Leadership and social skills
Executive functions
Emerging math skills
Creative problem-solving
Cultural exposure & appreciation
Babies Music Class: A Great Start
Newborns through 8 months
You might be wondering what your newborn could possibly take away from a music class and how old they have to be before they can benefit. At Music Together®, we know it's never too early to get babies started in class! Your little one is a natural-born music-maker, ready to start learning music at birth.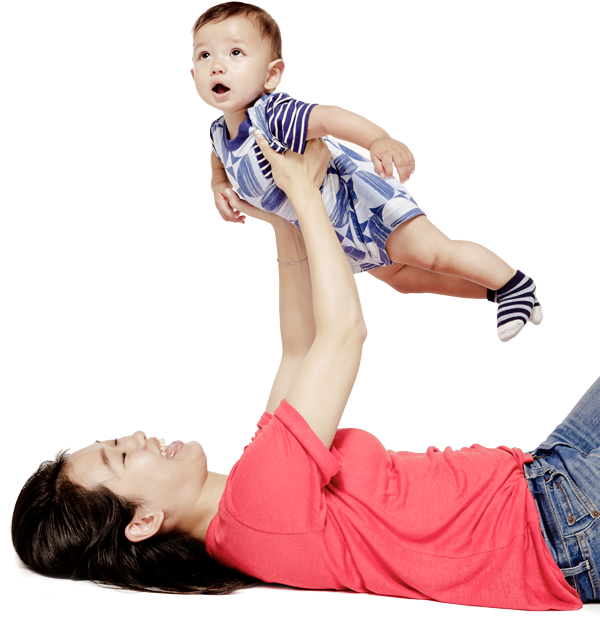 As in everything, you are your baby's first and best teacher. But don't get nervous! When you sing in the car and dance in the living room, you're showing your baby how to make music and that making music is important to your family. That's all your baby needs from you—musically, at least! (Food, clothing, and shelter are useful, too.)
In the Music Together Babies class, for infants from birth through 8 months, you'll learn a lot of fun musical activities for babies. You'll also learn to recognize which of your baby's behaviors are musical so that you can support their development at the time when your baby's brain is at its most receptive.
The Babies class has other benefits, too! Singing and dancing with your baby is a beautiful way for the two of you to bond. And making music with other parents of newborns is a great way to make new friends in your community who are as sleep deprived as you!
While it is always our goal to run every one of our class offerings, sometimes we have seasons with low registrations in some class times, and other classes that always fill within days of the start of the enrollment period.
For the best chance of claiming a spot in the class time of your choice, please register early!
Music Together® art & logo design ©1992-2020 Music Together® LLC. Music Together® is a registered trademark. Popovsky Performing Arts Studio is licensed by Music Together® LLC. For more locations: www.musictogether.com – (800) 728-2692
Rhythm Kids
Mondays at 5:45 | Wednesdays at 4:00 | Thursdays at 1:00
Mondays at 5:45 PM | Wednesdays at 4:00 PM | Thursdays at 1:00 PM
Tuition: $200 for the first child, $75 for a second child 
A djembe drum is recommended for class. You can purchase one from wherever you like, but we are able to offer wooden djembes from Toca percussion for $60, and PVC djembes from Toca Percussion for $47. Djembes purchased through us are approximately 12"-16" tall with an 8" drum head. These are high-quality instruments for a great price. 
During each weekly, high-energy class, kids have a blast singing, dancing, and jamming to rhythms and tunes inspired by musical traditions around the world. Their specially trained teacher leads group and individual activities that get students up and moving as they learn to compose, choreograph, and conduct. Bonus: The music and movement activities naturally support several key developmental areas, including executive function, emerging math skills, and leadership. By the end of the semester, they'll be proud to show off all the new skills they've mastered!
Classes include: • immersion in the musical language of many cultures, including West African Gahu, Japanese Taiko, Brazilian Samba (just to name a few!) • playful music games with rules • deep exposure to complex, fun, and rockin' music • rich, creative experimentation and expression, improvisation, and innovation

Questions? Reach out to Christyn at christyn@popovskyperformingarts.com
$

200.00
Select options